Natural attractions in Sydney: Exploring its amazing seaside adventures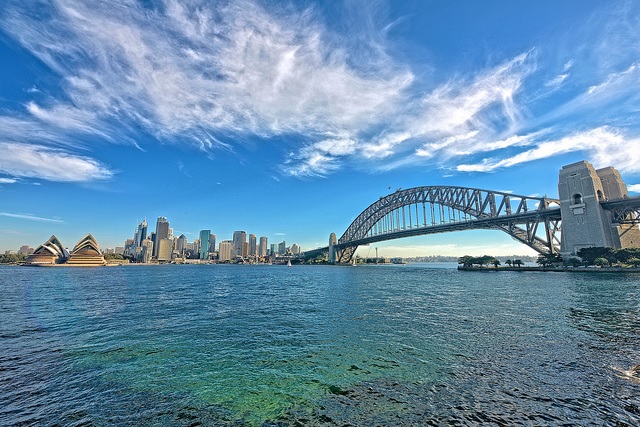 Image via Flickr by Jason James
Did you know that Sydney, Australia, is one of the best cities for nature and adventure-lovers to explore the Australian coast? Visitors to the biggest city in Australia have privileged and very convenient access to the best natural attractions in Sydney, which include amazing beaches and magical coastlines that offer top-notch surfing, snorkeling, and scuba diving.
The miles and miles of coastlines to explore are lined with natural wonders and great places to relax, eat, and marvel at Sydney's impressive history.
Exploring Sydney's Coastal Treasures
Located in East Sydney, Coogee Beach and surrounding areas are a must for nature and adventure-seekers. Experienced surfers and newbies alike can check out nearby Maroubra Beach, also known as "The-Bra," the second official Australian Surfing Reserve. Back on land, visitors can keep up with the action at Maroubra's free outdoor gym and Maroubra Skate Park.
For those looking for more relaxing enjoyment, Coogee Beach offers calmer surf,  great for beginners and for family enjoyment. Visitors can also relax in two of Australia's most famous grand old ocean baths, which feature spectacular views of majestic rocky coastlines. In addition, the pools are historical markers in Sydney's history. Wylie's Baths was one of Sydney's first mixed-sex seawater baths, dating back to 1907, while McIver's Baths is the last women-only seawater pool.
Take One of Australia's Famous Coastal Walks
Do not miss the Bondi to Coogee Coastal Walk, with 6 kilometers of magnificent Australian Coast for exploring. The walk takes about one to two hours to complete. Trekkers can enjoy a charming picnic at Coogee Beach, admire remarkable aboriginal rock carvings, watch migrating whales (from May to November) at Marks Park, and snorkel at Clovelly Beach. Thirsty travelers can also grab a drink at one of the many great cafes at Bronte Beach. You'll find plenty of places to snap pictures from remarkable clifftop views at Gordon's Bay, and you can take a swim in saltwater pools scattered along the entire path.
Find a Place to Stay and Enjoy the Night Life
Many great Sydney hotels offer easy access to Coogee's outdoor adventures and nightlife. After a long day of enjoying the Australian coast, visitors can chill out at one of Coogee's many beachside restaurants, cafes, and bars to recharge for the evening.
For great cocktails, travelers can make their way to Oceans Bar or head to Bluesalt Restaurant for Aussie favorites like fresh fish and chips. If you are looking to explore more of Sydney's great history, catch a movie at the Ritz Cinema, one of only two original Art Deco cinemas that remain in Sydney.
Horse Races, Bird-Watching, and Outdoor Adventure
Visitors to Coogee and other East Sydney locations have prime access to spectacular events like the Sydney Spring Carnival and the exciting horse races held at Royal Randwick throughout the year. Located close by, the Centennial Parklands are a great place for world-class bird-watching, horseback riding, and cycling.
In addition to being one of the most cosmopolitan cities in the world and being home to the Sydney Opera House and Sydney Harbour Bridge, Sydney has lots of outdoor and coastal adventures to offer its visitors. Choose from the many hotels in Sydney close to the impressive outdoors, coastal adventures, and exciting events for which Sydney is also famous.