How necklaces enhance your style quotient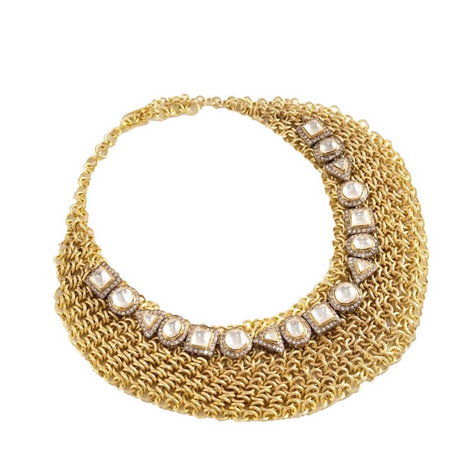 Today, necklaces are very much in trend and are used to make a style statement, especially when wearing a monochrome or minimalist apparel and on the personality of the wearer. Taking care to choose the right necklace is the best way to ensure that you make the 'style' statement you always wished to make.
When choosing the necklace, a couple of things have to be borne in mind
Dress – This one is important implying the dress is a casual one or a formal one along with its colour scheme for instance, an outfit in monochrome or two colours or more or its combination of light/dark shades and so on
Personality of the wearer –The overall look should be in tune with the personality of the wearer, a bold look may not necessarily suit a person with a mild or gentle personality while an outgoing person or celebrity needs to wear something truly flashy and bold.
Occasion – The occasion on which such dressing up is called for, whether the event calls for a truly striking or a demure look as found suitable.
In fact, the entire overview is taken into consideration before finalizing the look for gracing the event/date/meeting.
Dressing up for an evening event, and having chosen a dress in single colour, the most popular one being black, you can safely go ahead with wearing a bold in beads of single colour or a multi coloured necklace with a pendant that could very well suit the dress accompanied by matching earrings and footwear.
On the other hand, if you're wearing an Indian ethnic salwar kameez or saree or lehenga attire to grace a wedding event, it would be ideal to go for a kundan ball necklace or one in regal style or majestic style or even a multi layer bead necklace whose colour matches the colour of the outfit could be the ideal one. At times, even a chain necklace with a pendant in ethnic design does add to the style quotient of the attire.
If you're stepping out for a casual evening date with a group of friends, choosing a necklace in brightly coloured beads in various sizes, a row of floral pendants, or a knotted pendant, which could complement well with a jeans and floral shirt/top or long skirt and a tee or even tunic and leggings. Necklaces in neon colours do go well if you are wearing plain T-shirts and denims and so on.
Similarly, if stepping out for a corporate event or meeting, wearing a necklace chain with teardrop pendant or a single diamond or a coloured semi precious stone could be something that best suit the attire when worn with a matching set of earrings.
With so many style trends and options available, designer necklaces can also be customised on request. Also, it would be good idea to browse online and look out across online jewellery portals to locate a necklace of your choice which could perfectly match with the attire and the style quotient.