Will Packers' Andrew Quarless Be Able To Meet Expectations?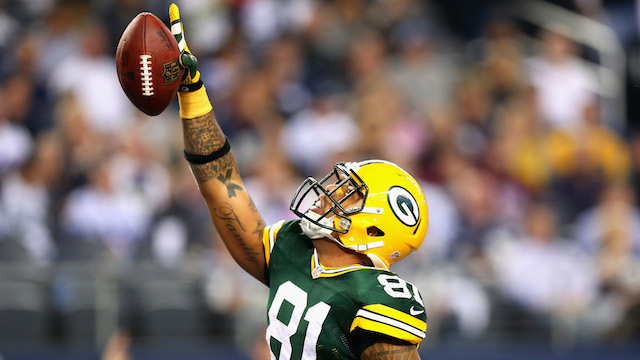 The Green Bay Packers' tight end Andrew Quarless is going into his sixth season with the team after joining the Packers during the 2010 NFL Draft's fifth round. Despite having racked up some fairly pedestrian receiving statistics so far, he's still getting buzz as a breakout player — and a good bit of the chatter is coming out of Quarless himself.
Between minicamp and the training camp is a dead zone which tends to thin out the NFL news cycle, so the question of "breakout players" can be somewhat forced in the sport. It's like looking for info about tickets on a Green Bay game long before they go on sale. Enter Quarless and his knack for getting his name in the headlines arond the Packers, starting earlier during the offseason when he claimed he was on the same level, with respect to talent, as Rob Gronkowski.
In the last five NFL seasons, one of which was wholly lost to an injury (this was 2012) Quarless racked up 85 catches in 909 yards with six touchdowns. That's three months worth of work for Gronkowski. Yet Quarless recently told the press he still doesn't feel he gets the respect due him.
"I definitely feel like an underdog," according to Quarless. "I watch the film and see what's out there. And I know myself and my potential. So I've been working hard, keeping that in the back of my mind and staying hungry, trying to be the best and take this team back to the Super Bowl," he said.
What are the odds that this 26-year-old tight end, someone who's set a career high of 323 yards and 3 touchdowns in 2014, will break into the upper echelon of NFL tight ends by pulling off a season which would need him to almost triple his production at its peak? Fairly low, but that's fine.
The chatter surrounding Andrew Quarless is offseason posturing. At this point in the year, every player looks "poised for a breakout" and is in the "best shape of their life." For Quarless to see his vision become reality, he'd have to overcome Richard Rogers as #1 tight end in the depth chart.
Football Outsiders note that 60% of the Packers' last season offensive snaps saw Quarless on the field; Rogers was on the field for 45.5% by comparison. Those numbers will likely start flipping in 2015 as Rogers starts establishing himself as receiver and distancing himself from Quarless.
Having built a full season's worth of trust between himself and Aaron Rogers, it wouldn't be surprising at all to see Richard Rogers make it past 500 yards and 3-5 touchdowns. Quarless by comparison should get plenty of work in the red zone and as H-back, where he'll have every opportunity to make it past 400 yards and get towards 500 if he can. It may not be Gronkowski level, but it would be a career high and an extremely valuable stat line to the offense.
This is not necessarily a condemnation of Andrew Quarless, it's more grounding the expectations. Everyone would welcome a true "breakout," but there seems to be something of a divide between the NFL field reality and Andrew Quarless' mind. The Packers won't expect an elite-level tight end, they'll expect Quarless — and that's quite enough to do the job.